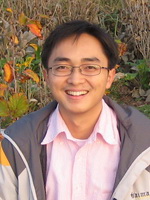 Geng, Sen
Assistant Professor
Phone:0592-2181286
Email:sen.geng@nyu.edu
Office:D209
Education
New York University, Economics, Ph.D., 2011
Wuhan University, Economics, MA, 2006.
Wuhan University, Economics, BA, 2003.
Wuhan University, Mathematics, BS, 2003.

Current Position
Xiamen University, the Wang Yanan Institue for Studies in Economics, Assistant Professor, 2011-present.

Research Fields
Primary fields: Microeconomic Theory, Experimental Economics
Secondary fields: Behavioral Economics, Industrial Organization
Working Papers
1. Asymmetric Attention, Asymmetric Errors, and Status Quo Bias (submitted).
2. Toward a Choice Model of k*-Focus (submitted).
3. Optimal Search with a Default Option.
4. Informational Value of the Observational Environment: Experimental Evidence, with Bogachan Celen.
5. An Alternative Mechanism for Eliciting Probability Distribution, with Natalia Shestakova.